GSD Comparison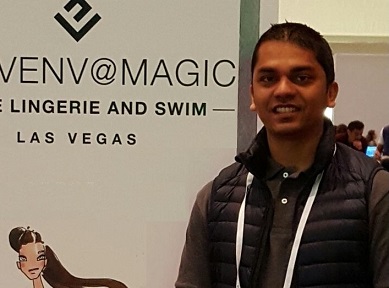 This is adapted from a guest contribution appearing at www.onlineclothingstudy.com/2016/05/lean-management-program-and-pmts-system.html. Charm Rammandala a Lean Management Expert, has shared his Walmart/ASDA experience with apparel lean management programs using PMTS across South Asia. At George Sourcing the apparel sourcing arm of ASDA, UK which is a subsidiary of Wal-Mart, Charm was in-charge of the LEAN management program for Apparel and Home Textiles in George across South Asia.
Our lean project was designed to align suppliers to future pricing challenges the George brand might face. As you know, manufacturing cost is ever increasing yet the price that buyers are willing to pay is same or constantly decreasing. This decrease is due to the competition in high street, where the buyers are not in a position to pay more and risk erosion of their market share. I could buy a formal shirt with a tie for $6 in Wal-Mart and a printed round neck T shirt for $5 at GAP. We all wonder how they do it, as we can't buy a shirt of the same quality for such low price in our own manufacturing countries.
We have noticed that most apparel and Home Textiles manufacturers suffer due to lack of understanding the work flow and bottlenecks during the final volatile and time sensitive stages of the process. As a result they need to increase the factory gate price to sustain the business. Some are now beginning to learn that companies like Wal-Mart, Nike and Adidas do focus on helping manufactures to get their act together. This is what LEAN management program does.
SewEasy is a tool we took on board after some extensive research; we waited till Capturing the Gains white paper was out. As you would agree what we need is a tool that can be implemented to get tangible results. It's not about presentations, graphs or seminars. We needed a system where associates could be trained in relatively short periods of time, easy to implement and not complicated to benchmark the products by calculating the SAM or SMV as you would call it. Process bench-marking could follow this stage. Obviously cost also is a deciding factor. As you know in the apparel industry, employee turnover is high and every time a new analyst joins in, we need him trained and ready to give the efficiencies the previous analyst gave. Otherwise it's a waste.
We found GSD to be a great tool but it was a challenge for floor level associates to handle, took a long time to train and the costs were astronomical. SewEasy has only few steps, easy to understand and ready to go the moment you buy.
We found a real difference in the efficiency and the productivity after installing SewEasy in our corporate office and linking it with our supplier partners. More importantly friction between the sewing machine operator (SMO) and the work-study analyst was greatly subsided and in fact it sort of became a partnership, simply because the SMO knew exactly what the time study analysis does and how it helps SMO to earn higher pay through production incentives.
Hope my experience and above comments help you in Lean Management of apparel manufacturing.
Mr. Charm Rammandala, Lean Management Expert
---
Testimonials – few of many

---
Pioneer in Asian Manufacturing
Hirdaramani – We have been using SewEasy® since 1995, compares well with any PTS system, and readily recommend.
Mr. Tony Nadaraja, CEO
Visit www.Hirdaramani.com
… next …
---
Global Sourcing Giant

Walmart/ASDA – in their Global Responsible Sourcing journey conducting Lean Education & Training for branded apparel manufacturing workers across Asia, Mr. Charles Dagher and Lean Programme team, built engineered SMVs [Standard Minute Values] using SewEasy.
I believe with SewEasy and the Lean factories its a powerful combination…. a solution to change the industry for good.
Mr. Mathew Parry, Lean Manager
Visit http://corporate.walmart.com/global-responsibility/education-training-in-our-supply-chain
… next …
---
Sourcing Home Textiles in South Asia – Wal-Mart/ASDA Preferred Supplier in Pakistan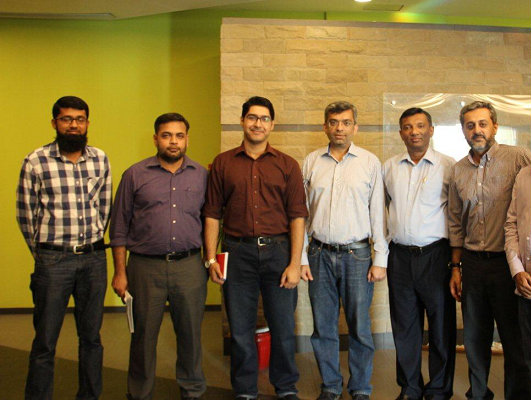 Yunus Textile Mills Ltd.
… next …
---
Sourcing Hotspot Bangladesh – H&M Preferred Supplier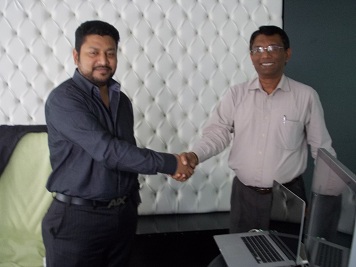 Fakir Fashion Ltd.
Visit http://www.just-style.com/news/fakir-fashion-deploys-seweasy_id117021.aspx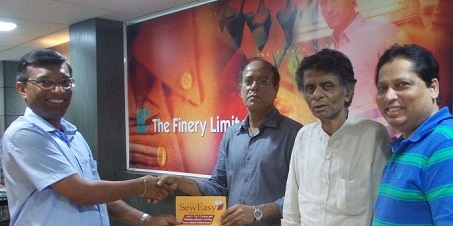 The Finery Ltd and Rhymer Apparel Ltd.
UK & USA Supplier
Visit http://www.just-style.com/news/fakir-fashion-deploys-seweasy_id117021.aspx
… next …
---
Indian Sub-continent – Largest Exporter of Knits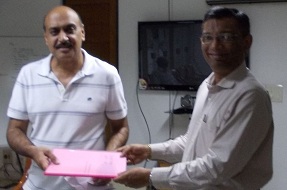 . . . : : : ORIENT CRAFT LTD : : : . . .
http://www.orientcraft.in/
SewEasy software for SMV calculation is very EASY to use and stands TRUE to its TAGLINE.. It is also very ACCURATE in calculation of SMV and is easy to integrate with our ERP system.
Nidhi Datt, Director  :: Norwest at PDS Multinational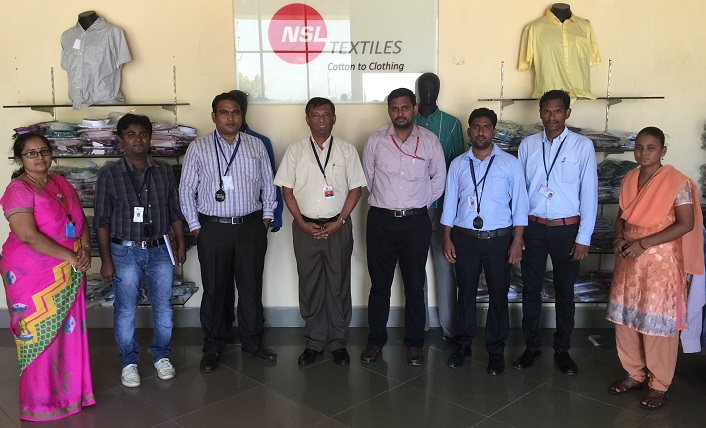 . . . : : :NSL Textiles Ltd: : : . . .
Sew Easy as a system comes at less than a tenth of the cost of other equivalent MTM systems. The ease with which this can integrate into your own ERP systems or gain acceptance by the IE's for its simplicity and ease of operation is tremendous. Added to this Keerthi's own unobtrusive style during system initiation makes the whole package good value for money.
NSL Textiles Ltd, Hyderabad, AP – During the period 25th to 30th July Mr Keerthi Abe has installed the system, and trained the analysts. They understood the operation, analysed and produced the bulletin.
Mr. Kamalnabh Canakapalli, Head Operations ( Garments)
… next …
---
Re-shoring Europe – Seville Row Shirt Maker & Jeans Maker
Kosova
KosovaTex, Kosovo – Sew Easy Software is really easy to use and it is very comprehensive for our needs. This Software is providing us precise information enabling us to be cost efficient and to achieve production targets and pay wage incentives. During this time the Sew Easy Software has proven to be irreplaceable to our day-to-day productions. I happily recommend Sew Easy PTS Software to other garment manufacturing companies in Europe and elsewhere.
Arben Abrashi
KosovaTex – Jeans & Casual Clothing Manufacturer, Prishtina, Kosova
Visit www.kosovatex.com
Turkey
GERBOY A.S.TURKEY – SewEasy® system is really easy to use as the name implies and therefore it is appropriate for garment industry. Besides this system is providing us significant outcome for correct costing, planning and target setting to increase overall efficiency of the factory.
Mr. M. Germirli, Owner
Visit www.gerboy.com
… next …
---
TPP Pacific Oceania – Stand UP Lean Sewing Innovator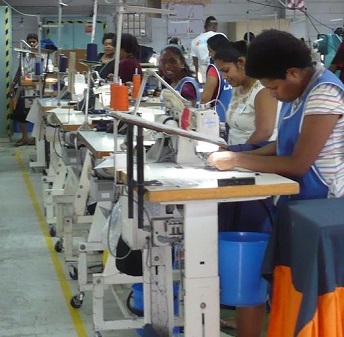 Danam (Fiji) Limited is a workwear manufacturer operating stand up cells. We found SewEasy®, easy and excellent management system. We are trying to achieve standardization of time, costing accuracy, balancing of lines, transparency, and team bonus calculations. We are embarking on many programs in lean management and best practices in the industry. Over the years there has been many programs implemented by Ausaid consultants like you. They have been a valuable part of development at Danam. We thank Export Development Board of Sri Lanka for part sponsoring your visit to Fiji.
Mr. N. Jamnadas, Director, CEO
Visit www.danam.com.fj
… next …
Final Frontier Africa & Middle East
---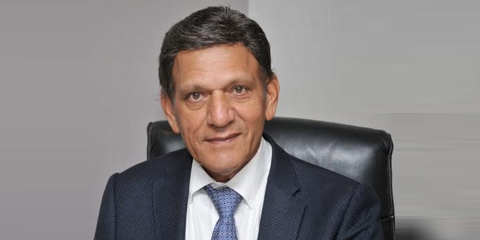 Kenya first then Dubai
We installed the SewEasy system at NeelKamal Apparel Group in Dubai in 2002 and then in our Kenya factory, Mega Garments in 2004.
Ashok Awtani – Chairman
---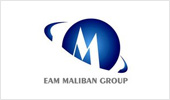 Sri Lanka first then Jordan
We installed the SewEasy systems in Sri Lanka from 1996 and in Jordan factory in the year 2003.
Managing Director, EAM Maliban Textiles & JAAF Chairman, Sri Lanka
---
DEVELOPMENT OF LEATHER AND FOOTWEAR INDUSTRY COMPETITIVENESS IN SRI LANKA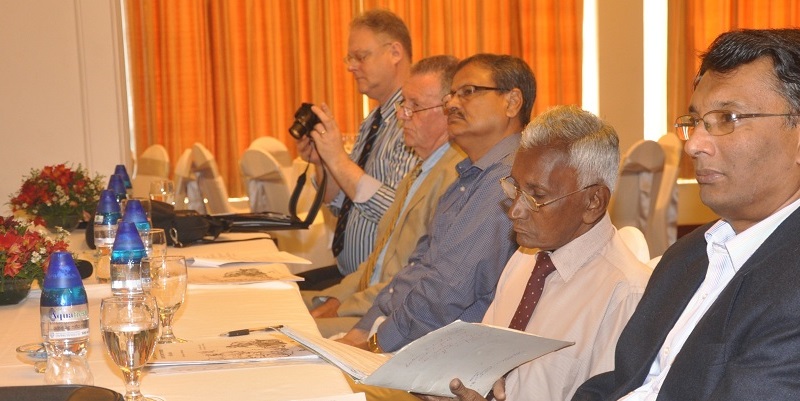 Team of Consultants in Sri Lanka
We participated in Sri Lanka LEATHER AND FOOTWEAR INDUSTRY DEVELOPMENT in the year 2011.
---